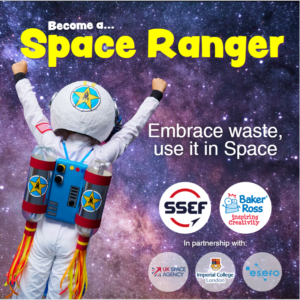 Our friends over at the Galactic Challenge have teamed up with the very inspiring and creative team from Baker Ross to celebrate Space Week 2022.
This year World Space week is celebrating sustainability in space and sustainability from space  and the competition is all about reusing and recycling your waste from home and using it to design a space related item. If you are in school Years 3 – 9 and would like to enter our competition and be in with a chance of winning some Baker Ross craft goodies then this challenge is for you!
More information about the competition can be found on the Galactic Challenge website along with all the rules and judging criteria. Entry deadline is 28th October 2022, so embrace your waste and getting cutting, sticking and creating. We cannot wait to see all of your creative space designs!