UKSDC Finals 2023 Blog post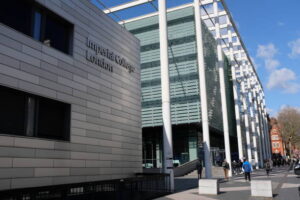 The UKSDC Finals took place this weekend at the iconic Imperial College London. 248 15-18 year olds from more than 25 schools around the UK qualified last Autumn at one of the Regional heats for this exciting and challenging competition. Twelve students will be selected to represent the UK at the International Finals which are held annually at NASA, Kennedy Space Center, Florida.
A huge thank you to all of our amazing volunteers who gave up their weekend to bring their skills, experience and knowledge to the event. Our volunteers worked as CEOs, Technical Advisors and Judges to make sure that the weekend ran smoothly, and we couldn't have done it without them.
Each company, made up of up to sixty students, was given twenty four hours to design 'Dias', an orbital settlement around the sun. The companies had to use their technical knowledge and work collaboratively to produce their final presentation by 8.oo am on Sunday morning. We can confirm that there were a few sleep deprived and bleary eyed students (and volunteers) on Sunday morning !
The Judges had a very difficult decision to make about who the winning company would be and one of the Judges was overheard saying "this was one of the closest competitions yet". Despite this, we would like to congratulate the students from Olympus Mons Trading Company on winning the competition, and all the other teams for producing such innovative and creative designs. 
Well done everyone, and watch this space for announcements about the team going to the International Finals in July…..